Glenda Watson Hyatt
Author, Motivational Speaker, Surrey, BC
Finding Your True Dream, The North Star for Your Life
Resulting from a lack of oxygen at birth, Glenda has cerebral palsy, mostly affecting her muscle coordination, balance and speech. However, labeled as functionally nonverbal and using a wheelchair for mobility hasn't prevented Glenda from living her life to the fullest. Raised without the word "can't" allowed, only "try," her parents made a conscious effort to introduce Glenda to the world and the world to Glenda. As a family with her three younger brothers, they went to parades, camping, snowshoeing (with Glenda in a sled, wrapped in a rescue blanket to stay warm) and any other outings her parents could afford.

Glenda Watson Hyatt will share her experiences living with cerebral palsy to motivate and inspire others to think about how they perceive their own situation and their own world around them. She does all this by typing with only her left thumb!

Brad Jacobsen
Peer Program Coordinator, Spinal Cord Injury BC, Vancouver, BC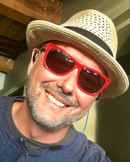 Off the Beaten Path: Making It Happen
As one of the original founders for the much respected and highly important Peer Support Program at Spinal Cord Injury BC, Brad has spent the better part of the last 20 years helping others to adjust, adapt and thrive in their new lives post injury.

A true BC boy, he was born and spent the early part of his life in northern BC before moving to the sunny Okanagan and then on to the coast where he lives in beautiful False Creek. Having spent a lot of time playing in the forests and waters throughout the province he decided early on after his C4/5 SCI in 1994 to not let his injury limit him from enjoying life as he knew it. He soon learned that to do so successfully he would need to allow others to help him at times along the way. He believes anything is possible if you surround yourself with good friends.

When he is not out chasing down adventure he can be found cruising the seawall, hanging out listening to tunes and catching rays in one of his three gardens, or telling stories and sampling a tasty brew at one of the local craft beer joints in his 'hood. Almost always with a smile!